When it comes to transforming your living spaces, a fresh coat of paint can work wonders! But did you know, there are several types of interior paint finishes, and each can significantly impact the final look and feel of a room?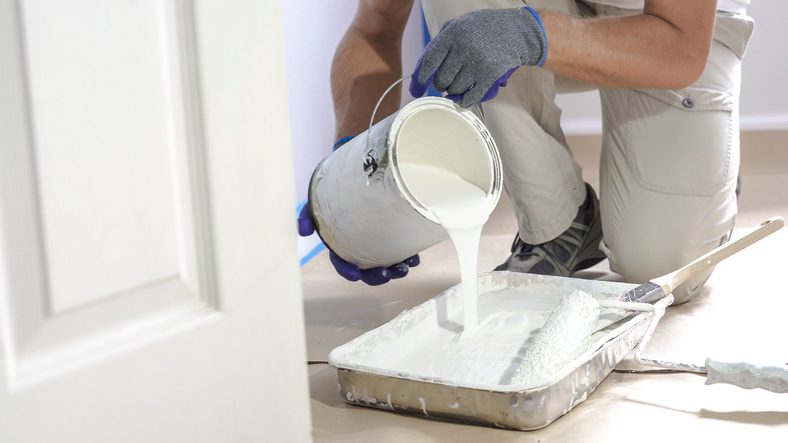 That's right, it's not just the colour you need to consider (although that's super important too). Paint comes in a number of different finishes, or 'sheens', offering varying levels of light reflection and durability.
Understanding these options can help you achieve the right look and feel for each room in your home.
Top 4 Interior Paint Finishes
Flat or Matte Finish
Flat paint finishes are known for their impactful, deep colour, with almost no reflection – making imperfections less noticeable.
This finish is used mostly on ceilings, though we have also used it in corporate buildings for effect, as well as on kids chalk boards. It's generally not used on walls, or spaces prone to moisture, as it's not as washable or durable as other sheen levels.
2. Low Sheen Finish
Low sheen paints offer a smooth, sleek look due to their low reflectivity. This finish is a great go-to for walls – whether they be plasterboard, VJ paneling or a feature wall – and also works well in main living areas like bedrooms, lounges, and dining rooms, due to its moderate durability, relative ease of cleaning, and deep, rich colour.
3. Satin / Semi-Gloss Finish
Same thing, different names! "Satin" is a word mostly used in Victoria, Tasmania and New Zealand; here in Queensland we say "semi-gloss". This type of finish provides a noticeable shine and enhanced durability. They are washable and resistant to moisture and stains, making them perfect for busy areas that require frequent cleaning, such as kitchens, bathrooms, and laundries. Semi-gloss finishes are commonly used for trim, doors, and cabinets, as they create a stunning contrast against walls with lower sheen levels.
4. Glossy Finish
Gloss paint offers the highest level of shine and reflectivity. While not commonly used for entire walls due to their intense gloss, they're often applied to add drama to small accent areas, like furniture, trims, or decorative molding. Glossy finishes can create a visually striking effect, but they also tend to highlight imperfections – so proper surface preparation is crucial.
Interior Painting is our Specialty!
Choosing the right paint colour and finish can be a challenge, but that's just one of the advantages when you work with professional painters like Premium Painting and Plastering. Based in Mt Gravatt on Brisbane's southside, we specialise in interior painting and would love to help you with your next project. Whether it's renovating a gracious old Queenslander in Camp Hill, to a modern executive townhouse in Hawthorne – contact our friendly team for an obligation-free quote today!